04 Jun

ArchaeoNews: archaeology news in your pocket
ArchaeoNews: Archaeology News in your Pocket!
[custom_frame_left]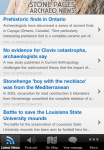 [/custom_frame_left]Are you are a fan of prehistory? Do you seek out the latest news on breathtaking discoveries and the most exciting archaeological digs on the planet? Are you a megalithomaniac eager to learn everything about these great ancient monuments? Now, you can get all of this to keep in your pocket. ArchaeoNew is the first mobile application that brings news about the ancient world to your Apple iPhone, iPod Touch and iPad.
Through the ArchaeoNews app you can read all the news published on the Stone Pages website and access to our MP3 podcasts: a half hour weekly show presented by UK archaeologist David Connolly.
If you want to know the exact location of that obscure place mentioned in one of our articles, now, thanks to our ArchaeoNews app, you can see the point of origin clearly shown on a Google Map, along with (if you own a location information-equipped device) your exact position on the Earth.
If you only want to read the news relating to your own country or your favourite region then you can select one of the 14 regional feeds on the ArchaeoNews app and as an added convenience, you can also configure the bottom navigation bar with your own choice of available feeds.
ArchaeoNews app is now available on Apple iTunes Store at the basic price of 0,79 Euros / 0.99 US Dollars / 0.59 UK Pounds.